Premier and Minister of Finance, Dr. the Honourable Natalio D. Wheatley, hosted a large gathering of dignitaries at a reception to commemorate the 20th anniversary of the BVI London Office.
While speaking at the event, Premier Wheatley stated that the BVI London Office is the outward extension of self-government in the Territory which began in 1950 and continues to develop today. He recalled the vision of the late former Premier and Minister of Finance, Honourable Ralph T. O'Neal, OBE when his administration successfully acquired BVI House and established the BVI London Office in 2004.
Premier Wheatley stated, "He and his Government understood that the continued political and economic development of the Virgin Islands, and our emergence as an international finance centre and tourist destination, required the Government to have a permanent political presence in the United Kingdom (UK) and European Union (EU) going forward." The Premier said that the permanent political presence also provides access to other international partners via the Diplomatic Corps in London, Brussels and the Commonwealth.
Going forward, Premier Wheatley said, "The BVI London Office will be more engaged with the CARICOM Caucus of High Commissioners and also our African partners represented in the Diplomatic Corps."
Meanwhile, Acting Director of the BVI London Office, Ms. Tracy Bradshaw, stated that over the past 20 years, the BVI London Office has played an invaluable role to the Government and people of the Virgin Islands as the Territory continues to advance internationally, politically, and economically.
Ms. Bradshaw acknowledged her predecessors and colleagues for their leadership over the years and expressed gratitude to the many friends, supporters, advisors and partners who have helped the Office to fulfill its mission and realise its vision.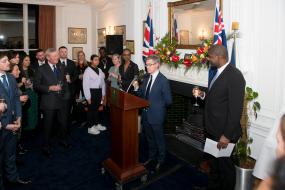 "On this auspicious occasion, we turn eagerly to the years that lie ahead and rededicate ourselves as servants of the people of the Territory to support them in their aspirations," Ms. Bradshaw said. She added, "We look forward to many more progressive and successful years with strong relationships advancing the Territory's various interests even further."
Director of the Overseas Territory Directorate at the Foreign and Commonwealth Development Office, Mr. Paul Candler, in his congratulatory remarks, noted that the London Office provides vital services for the people of the BVI, from supporting students or residents living in the UK, to promoting BVI's financial services, to advocating for the people of the BVI across the UK Government in London.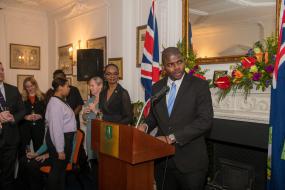 Mr. Candler said that working for the best interests to the people of the Overseas Territories is the most important job that they do in the Overseas Territories Directorate.
Premier Wheatley and his delegation are in London as part of his Administration's deepening engagement with partners in the United Kingdom including the UK Government, UK Parliament, local council government, universities, firms and businesses.