CIBC First Caribbean International Bank handed over a cheque valued $51,500 to the BVI Cancer Society from the proceeds raised by the 2022 Walk for the Cure events.
The official handing over ceremony took place at the bank's main hall on Thursday, January 19, presenting the not-for-profit organization with the largest single payment that it has received to date.
The bank's Branch Manager Fabian Devonish presented the cheque to the President of the BVI Cancer Society Ms. Gloria Fahie after disclosing to her for the first time the total amount raised, which surpassed the original goal of $50,000.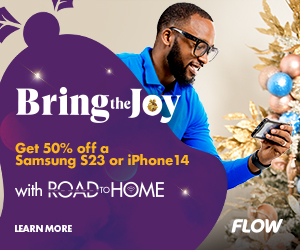 President Fahie thanked all the donors involved for their collective contribution to her organisation.
Fahie expressed that she is overjoyed with the relationship that has developed between CIBC FCIB and the Cancer Society over the years, stating that it has lifted the huge financial burden that her organisation once faced in their fundraising efforts.
She expressed plans on doubling the Cancer Society's efforts for 2023 as she encouraged residents who have been diagnosed with cancer to reach out to the organisation for assistance if needed.
The president said she is hopeful that the overall fundraising goal is raised to $75,000 for the year 2023.
Meanwhile, Head of International Corporate Banking, Mrs. Vernecia Holder provided an outlook to the many charitable initiatives that the bank will be hosting for 2023.
Holder confirmed that their marquee event the Walk for the Cure is already set in stone with an October 7th 2023 date.
For more details on this story, tune into our 7:00 p.m. newscast on CCT Live Channel 284, 284media.com and Facebook page 284 Media.