Yesterday February 27th, 2023, Virgin Islander Nyron Erickson was extradited to the United States.
Video footage show Erickson being escorted by armed officers and put onto a Helicopter which reportedly transported him to St. Thomas USVI.
Documents dated February 15th, 2023 received by our newsroom showed that the Privy Council rejected Nyron Erickson's application for an appeal against the governor's order to have him extradited to the United States of America on charges of conspiracy to launder monetary funds from outside the USA and illegally transporting those funds into the USA.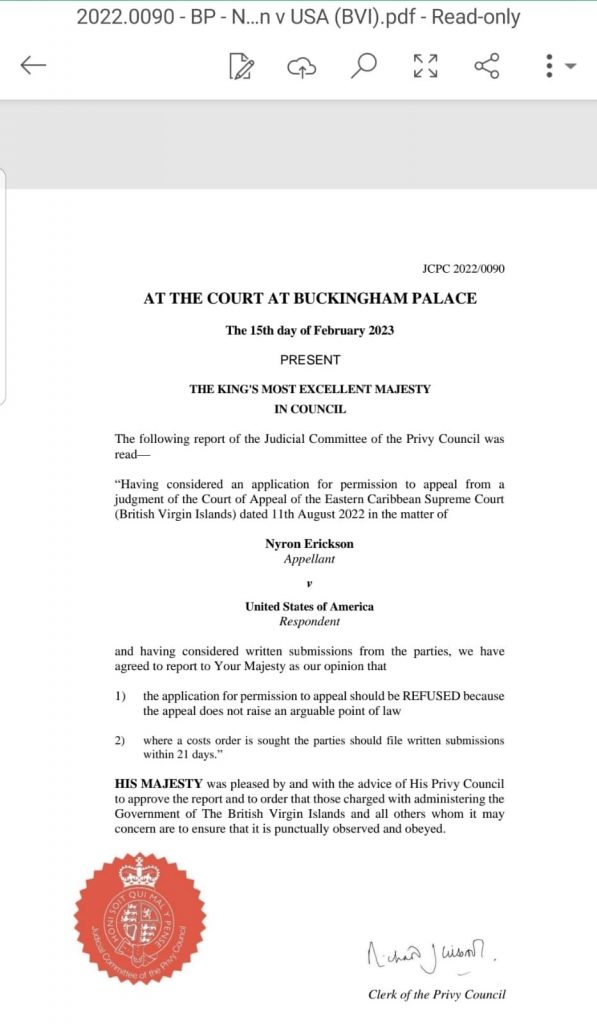 In the document detailing the decision, the Privy Council stated: "Having considered an application for permission to appeal from a judgment of the Court of Appeal of the Eastern Caribbean Supreme Court (British Virgin Islands) dated 11th August 2022 in the matter of Nyron Erickson (Appellant) v United States of America (Respondent) and having considered written submissions from the parties, we have agreed to report to Your Majesty as our opinion that 1) the application for permission to appeal should be REFUSED because the appeal does not raise an arguable point of law."
Additionally, the Privy Council also stated, that "His Majesty King Charles III was pleased by and with the advice of His Privy Council to approve the report and to order that those charged with administering the Government of the British Virgin Islands and all others whom it may concern are to ensure that it is punctually observed and obeyed."