VISAR will be hosting the annual fundraiser, Swim and SUP the Sound which starts at The Bitter End Yacht Club ending at Leverick Bay and includes a half-mile, one-mile and two-mile swim and a 2.5-mile SUP course. This will mark the first time since Hurricane Irma that the 2-mile and SUP race will be able to start from the beach at the Bitter End Yacht Club.
This fundraiser has been going on for over 12 years and is one of the non-profits core events of the season. In 2020, due to COVID-19 the race was held virtually with over 145 people participating from six different countries and in 2021 was able to be held in person and was sold out.
The majority of VISAR's $250,000 yearly operating budget is funded through the $2 per person program which is collected by the local charter companies. This year, VISAR is also fundraising to replace their search and rescue vessel SPIRIT OF TORTOLA. VISAR is relying heavily on the funds raised at Swim and SUP the Sound to help towards these endeavours.
"Swim and SUP the Sound is a fantastic day on the water for everyone involved from the race participants, to the volunteers and those enjoying Family Fun Day.  However, it's also an important day; as the funds raised will help our dedicated crew members in our mission of 'Saving Lives at Sea.' We'd like to thank everyone who helps to make Swim and SUP the Sound a success." Gerard Kraakman, President & Incident Command Officer.

Swim and SUP the Sound also includes a great FAMILY FUN DAY at no extra cost.  Activities include; beach and pool games, arts and crafts and slime making.  For those that prefer to spend the day on land they can join the 'Cheer Squad' for a fee which includes ferry transportation and lunch.  
Included in the $100 race entry fee; day of transportation to/from Road Town to Leverick Bay, Leverick's Famous BBQ lunch, a goodie bag and finishers medal.  Full details and event registration are available on VISAR's website at https://visar.org/news/2023-swim-and-sup-the-sound.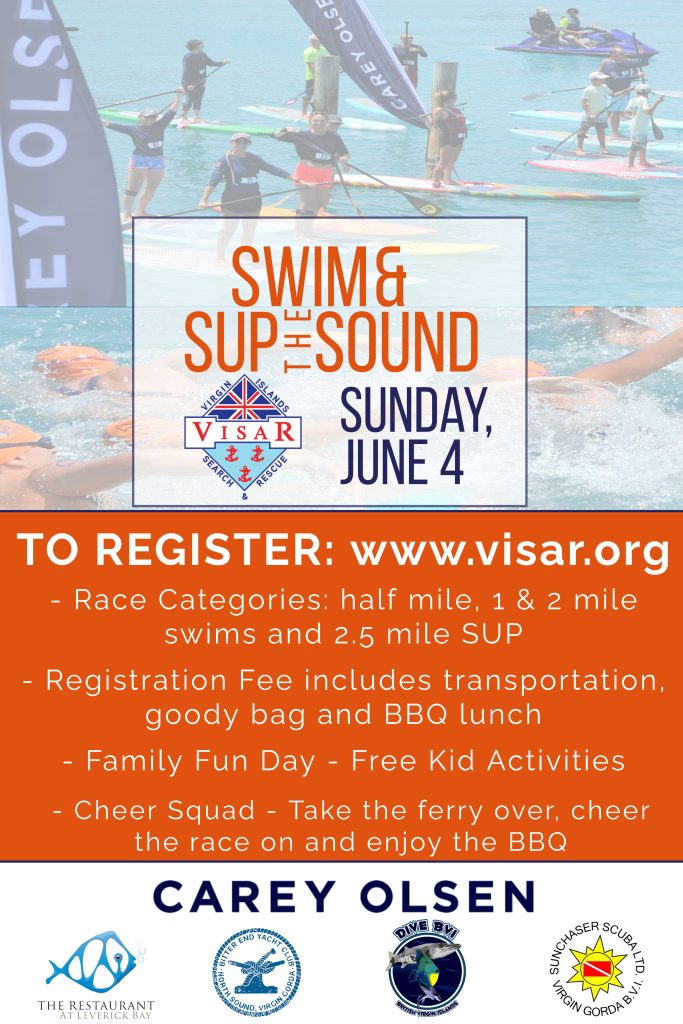 Swim and SUP the Sound is sponsored by Carey Olsen with support from Leverick Bay Marina, Sunchaser Scuba, Dive BVI, Oil Nut Bay, Blue Rush Watersports, Necker Island, TerraForma, Virgin Textiles and Romasco.