China's public health systems have taken a devastating blow as a new surge of COVID 19 infections has gripped the country into the new year.
Photos circulating on social media show persons on stretchers spread out in hallways, as reports surface that major hospitals are running out of room to facilitate the influx of patients requiring oxygen.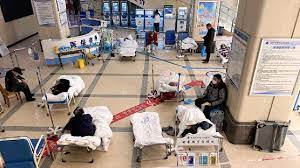 Data released from China shows so far that no new COVID 19 variants have been linked to the outbreak.
The spike in infections follows China's decision to relax severe COVID 19 restrictions in December, bringing an end to nearly three years of lockdowns, travel bans and public space closures that characterised the country's battle with the COVID 19 virus. Contributing factors for why the measures were abandoned reportedly included their impact on the economy, and civil unrest evident from street protests observed in the country.
The outbreak is said to have began in China's most populated cities and spread out to reach small towns and rural areas, causing great concern from authorities as it continues to branch out.

In the country local governments have begun asking people not to travel, despite the upcoming Lunar New Year Holiday to be observed.
Meanwhile, overseas several countries have reinstated virus testing requirements for travellers coming from China, with the measures being justified by belief that the Chinese Government is not sharing accurate information on the magnitude of the outbreak.
The World Health Organization has expressed concern that China is underreporting how many people have amid this outbreak.
"WHO is concerned about the risk to life in China and has reiterated the importance of vaccination, including booster doses to protect against hospitalisation, severe disease and death", said the WHO Director General in a recent press conference as he spoke on the need for more rapid and regular data from China on hospitalisations and deaths.