Over forty writers and other speakers from the BVI, the Caribbean and its diaspora took centre stage to showcase literature, film, music, and spoken word under the theme "Unspoken. Unwritten. Unknown" at the 2nd Annual BVI Literary Arts Festival.
The three-day festival, which was a joint collaboration between the H. Lavity Stoutt Community College (HLSCC) and the Department of Culture had its inaugural in-person hosting from 3 – 6 November as part of the territory's Culture and Tourism Month activities. The diverse programme included a series of panels, readings, films, workshops, lectures and a local book fair and featured world renowned writers such as Kei Miller, Tiphanie Yanique, Tobias Buckell, and Desiree C. Bailey.
On 3 November, the Office of the Governor hosted a Writer's Reception for invited guests, speakers and sponsors. The event allowed for the international, regional and local writers and speakers to fellowship with one another and be introduced to the BVI through local food and music.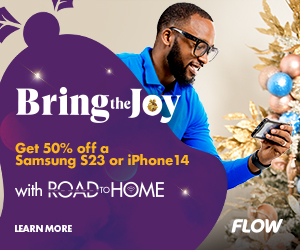 The second day of activities, on 4 November, included a series of panel discussions that centred around socio-political, environmental, film and literature topics. The discussions were hosted at the HLSCC's Main Campus in Paraquita Bay and ran from 9:00 a.m. through 4:30 p.m.
During the first two panels, Eunice Bedminster and Freeman Rogers moderated by Ronn Grant discussed the fine line between unveiling and veiling reality when reporting facts and creating discourse in The Unwritten Truth: Covering Crisis; while Desiree Bailey, Ana Portnoy Brimmer and Andre Bagoo moderated by April Glasgow explored the contribution that poetry and the imagination that informs it can give to understanding the world and creating the vision of a future in The Poems We Imagine.
Rich with their long careers as writers and educators, Patricia Turnbull and Verna Penn Moll moderated by Bernadine Louis shared their experience and initiatives to foster literacy and literary interest in the Virgin Islands in A Life in Literature; while Angela Burnett Penn, Noni Georges, and Lianna Jarecki moderated by Sharlene Dabreo spoke on sustainability and provided solutions regarding climate change and its rapid effects to shifting our economic, social and cultural realities in Climate Change and BVI.
In Are We Gatekeepers or Gardeners? Alcess Lewis-Brown, Andre Bagoo, Yvonne Woods, Vincent Cooper and Yvette Mcmahon-Arnold (editors of The Caribbean Writer and Moko Magazine) moderated by Nia Douglas shared their experiences running print and virtual literary journals and explored what makes a poem, story or essay deserving of publication and the ways we can nurture emerging writers from lesser heard spaces and evangelise the best of Caribbean letters. Economy experts Patlian Johnson, Colin O'Neal and Clarence Faulkner moderated by Shea Alexander discussed the influence of geographical factors on the politics and economy of the territory and how its international relations are consequently reshaped in Economic Development/Impact of Geopolitics.
April Glasgow and Johanna Gibson alongside Richard Georges honoured Anegadian sailor, engineer and poet, Alphaeus O. Norman through the reading of his poetry and celebrating his place in Virgin Islands Literature in Reading: The Poems of Alphaeus O. Norman.
During the afternoon portion of the discussions, Tobias Buckell, Celeste Rita Baker, Sharma Taylor and Tiphanie Yanique moderated by Freeman Rogers investigated the contribution of Caribbean literature to world literature and its power to represent and control a future that in many ways makes us uncertain in Future Tense/Caribbean Imaginary; while experts in social and political and juridical issues, Carlyle Corbin and Shirley Osborne alongside Shania Smith-Archer debated the idea of 'nation' and discussed the possible political future in Overseas Territories in What is a Nation? Political Development in the Overseas Territories.
In Ancestors Speak, Katherine Smith and Art Christopher moderated by Zarrin Ahmed covered ancient and local narratives as the key to understanding the present and planning the future of a people and a nation; while Local Filmmakers, Alton Bertie, Hakeem Gravesande and Dame Peters moderated by Enya Douglas-Tarabay showcased their latest production with a set of short films and discussed their work and their experience with the film industry in the Virgin Islands in Local Filmmaker's Showcase. The Filmmaker's Dilemma, the winning film from the BVI Film's Commission 30th Anniversary film competition by Earl Hazel Jr. also premiered live to the public during the discussion for the first time since winning.
Concluding the day's panel discussions, Poet Laureate and President of HLSCC, Richard Georges hosted a broader conversation with headliner Kei Miller about how he tackles things that are often left unsaid across his oeuvre in What is Unspoken?
In the evening, emerging BVI writers Johanna Gibson, April Glasgow, Anika Christopher and Giovanni Herbert read their poetry in the charming garden of The Sushi Bar on Main Street and reminded the public how poetry is a powerful source of burning beauty and inspiration alongside 2021 Grand Slam title winner, Derron Sandy.
On Saturday, 5th November the Department of Culture hosted its annual Local Book Fair and engaged persons interested in Publishing, Poetry and Spoken Word, Non-Fiction and Fiction, and Children's Literature in a series of workshops facilitated by Yona Deshommes, Ana Portnoy Brimmer, Derron Sandy, Andre Bagoo, Tobias Buckell and Dinah Johnson respectively at Maria's by the Sea.
Unfortunately, due to unfavourable weather conditions, the BVI Lit Fest's Poetry Slam Competition was postponed.
President of HLSCC and Virgin Islands Poet Laureate, Dr. Richard Georges said, "The College is proud to have organised and hosted the BVI Lit Fest in collaboration with the Department of Culture. The festival is essential to the promotion of the literary arts to foster a love of writing and reading, and to encourage new generations of writers in the BVI."
The event was proudly sponsored by its Premier Sponsor, Unite BVI Foundation; Platinum Sponsor, VP Bank; and Silver Sponsors, Aleman, Cordero, Galindo and Lee (ALCOGAL) and National Bank of the Virgin Islands. Other sponsors and partners included the Government of the Virgin Islands, The British Virgin Islands Tourist Board, Office of the Governor, CCT and 284 Media.
To learn more about the event, its speakers and view media from the 2022 BVI Literary Arts Festival, visit www.bvilitfest.com.